Sony активно развивает свои игровые предложения в области виртуальной реальности. Уже сегодня доступно свыше 100 различных проектов для шлема PlayStation VR, а вскоре их количество увеличится в полтора раза. Многие из игр, которые представлены в списке, уже наверняка знакомы читателем.

В частности, речь идёт о TES V: Skyrim, Doom и Fallout 4 от компании Bethesda Softworks наряду с другими анонсированными прежде окружениями вроде Golem, Pixeljunk VR, Bravo Team, No Heroes Allowed, Ark Park и так далее. Хотя 2017 год скоро останется в прошлом, во время зимних праздников выбор новых VR-игр для PS4 будет обширный. Да и начало 2018 года не отличается дефицитом. Кстати, в декабре пройдёт мероприятие Sony PlayStation Experience, так что наверняка будут анонсированы и другие проекты.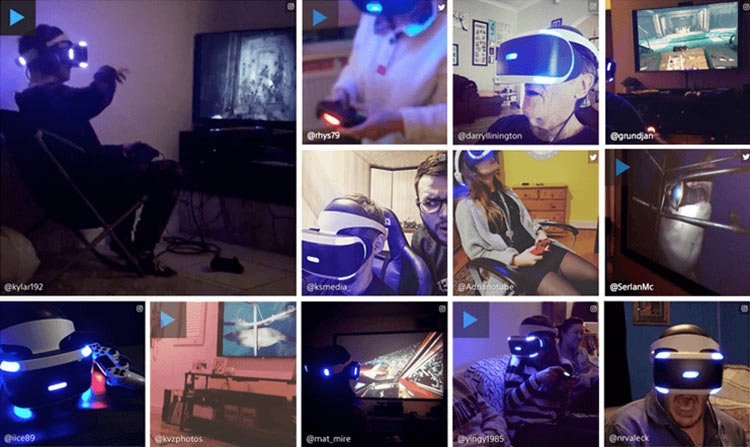 Ещё в самом начале лета Sony сообщила, что популярность её шлема PS VR оказалась весьма высока и на тот момент продажи превысили миллион единиц. Более актуальные показатели успехов шлема наверняка будут обнародованы 31 октября, в очередном финансовом отчёте японской компании.
Итак, в 2017 году PlayStation VR ждут следующие игры:
Anamorphine;
Ark Park;
Blade And Soul: Table Arena – Ncsoft Corporation;
Brain Voyagers;
Bravo Team;
CoolpaintVR;
CubeWorks;
DWVR;
Doom VFR;
DragonBlast VR;
Dream Angling;
Drunkn Bar Fight;
End Space;
Fishing Master;
Flatline: Experience the Other Side;
Ghosts in the Toybox;
Gran Turismo Sport;
Gunheart – Drifter Entertainment;
Hex Tunnel;
Hopalong: The Badlands;
Justice League VR;
Megaton Rainfall;
Monster of the Deep: Final Fantasy XV;
Moss;
No Heroes Allowed!;
Nothin' But Net;
Obduction;
Pixeljunk VR: Dead Hungry;
Quar Infernal Machines;
RadianVR;
Rec Room;
Run Dorothy Run;
Sculptrvr;
Serious Soccer;
Shooty Fruitie;
Snow Fortress;
Stardrone VR;
Stifled;
Super Amazeballs;
Survios;
The Elder Scrolls 5: Skyrim VR;
The Inpatient;
The Rabbit Hole;
VR Apocalypse;
Virtual Engagement Confronting Fear.
В начале 2018 года игроки могут рассчитывать на немалое количество VR-приключений:
Alvo;
Ariel;
Blasters of the Universe;
Chainman;
Cold Iron;
Dead Secret;
Dragonflight VR;
Drone Fighters;
Dungeon Chess;
End of the Beginning;
Golem;
Knockout League;
Penn & Teller VR: Frankly Unfair, Unkind, Unnecessary and Underhanded (including Desert Bus);
Pixel Ripped 1989;
The American Dream;
Torn;
Xing The Land Beyond.
В честь первой годовщины PlayStation VR президент и исполнительный директор Sony Interactive Entertainment America Шон Лейден (Shawn Layden) отметил: «"Что же будет дальше?" — спросим снова. Ответ прост: нечто удивительное! Мы хотим стать вашими проводниками. Готовы ли вы отправиться в путь?».
Источник: https://PlayStation VR game/
PlayStation VR to Get 60+ More Games Through Early 2018, Nearly Doubling Game Catalog
It's been a whole year since the PlayStation VR launched, and Sony is nearly doubling down on its extensive catalog of games with +60 more titles confirmed to come to PSVR between now and early 2018.
While the platform already claims to host over 100 games, PSN will be seeing 69 more titles in the next few months, including highlights such as Moss, Obduction, Doom VFR, Golem, Skyrim VR, The Inpatient, and The Solus Project.
At the time of this writing, this is the full list of games coming to PSVR up until early 2018:
Coming to PSVR in 2017
Bravo Team
DragonBlast VR

Radial-G: Racing Revolved

Doom VFR
Dream Angling
RadianVR
Gran Turismo Sport
Drunkn Bar Fight
Rec Room
Megaton Rainfall
DWVR
Moss
End Space
Sculptrvr
No Heroes Allowed!
Everest VR
Obduction
Fishing Master
Pixeljunk VR: Dead Hungry
Flatline: Experience the Other Side
Stifled
Ghosts in the Toybox
Stardrone VR
The Elder Scrolls V: Skyrim VR
Hex Tunnel
The Inpatient
Honor & Duty
Survios
Anamorphine
Hopalong: The Badlands
Ark Park
Justice League VR
Brain Voyagers
Light Tracer

Virtual Engagement Confronting Fears

Chernobyl
Monster of the Deep: Final Fantasy XV
VirtuGO
CoolpaintVR
Nothin' But Net
CubeWorks
Prana
Discovery
Coming to PSVR in 2018
| | | |
| --- | --- | --- |
| Golem | Blasters of the Universe | |
| The American Dream | Chainman | |
| Torn | Cold Iron | |
| Xing: The Land Beyond | Dead Secret | Penn & Teller VR: Frankly Unfair, Unkind, Unnecessary and Underhanded (including Desert Bus) |
| Alvo | Dragonflight VR | |
| Ariel | | |